Say It With A Plant: 14 Valentine Gift Ideas For The Plant Lover
Help us grow! This post contains affiliate links, which means we receive a commission if you click a link and purchase something that we have recommended.
Let's face it, a dozen dying flowers and a box of questionably filled chocolates has been done. Like everything else, Valentine's day gift giving must evolve. If your Valentine has a special love for growing things, or if you truly want to show how alive your love is this Valentine's day season, there is no better way to say it than with a plant. Here are a few romantic alternatives to the traditional bouquet, as well as, a few plant centered gifts that your nature lover will adore. 
Bouquet Alternatives: 
Anthurium
With it's long stems and glossy leaves, Anthurium are also known as Flamingo Flowers and make a luxurious and upscale looking gift that your sophisticated love will appreciate. Their heart shaped leaves will bloom in white, red, or pink, perfectly festive for the occasion.
Buy your classy bouquet alternative here
Palicourea Elata
This is a plant that very clearly says, "pucker up." Give potted or in seed form to promise kisses today and in the future.
Lithops Julii 
Sometimes also called "hot lips," this is another plant to invite smooching this Valentine's Day. To add appeal, this especially succulent succulent is rather rare and slow growing. So, there is no better gift to tell the plant lover in your life just how uniquely wonderful they are.
Heart Leaf Fern: Hemionitis arifolia 
The name as well as the classic heart shape easily lands this houseplant on our list. Growing and caring for this fern does require a little extra tender love and care. But who doesn't? Especially on Valentine's Day. The Heart Leaf Fern loves low light, high humidity, and warm temperatures. This is great news for gifting! Present your fern in a classy glass terrarium or cloche for an instant wow factor. 
Purchase a Heart Leaf for your honey here.
Hoya Heart (Hoya Kerrii)
This lush succulent grows as a vine with plump, heart-shaped leaves. Often Hoya Hearts are sold as singular leaf cuttings that are oh so sweet. They are often also known as the sweetheart succulent and so may serve as the perfect gesture of love for your sweetheart.
Purchase your own Hoya Heart here.
String Of Hearts (Ceropegia woodii)
String of Hearts is a semi-succulent. They require simple care, love sunlight, and can tolerate dry soil. Also known as the Rosary Vine, its long cascading tendrils are covered in heart shaped leaves creating a strikingly romantic plant.
Purchase your sweet String of Hearts here.
Heart Shaped Lucky Bamboo
Okay, we are cheating a bit with this one. Lucky Bamboo doesn't naturally grow in a heart shape, or course. But, it can be rotated to take the shape as they grow and can be purchased,  already formed, from many online florists and plant stores.
Other Plant Themed Gifts:
Plant Jewelry
Jewelry is a tried and true gifting favorite. But, if you're worried it's been over-done, try breathing new life into the tradition with plant jewelry. Some are actually living, like these Living Air Plant Earrings. If you're looking for something that can be worn without having to be watered, you may also enjoy Pressed Flower Jewelry,  Gold Dipped Leaves, or Real Flowers in Resin. 
Find more sparkling leafy duds here.
Live Plant Gift Box
Gift boxes are a favorite for almost any occasion and many florists and private sellers provide the option of plant or plant themed gift boxes as an alternative to the traditional cut bouquet. These can often be sent directly in the mail. One of my favorites is the succulent gift box. Succulents are hardy enough to withstand the journey and still look fresh and bright when they arrive. Some sellers on Etsy create sweet gift boxes which include a live plant and are themed just for Valentine's day, as well as many other occasions.
Purchase this adorable Valentine's Day Succulent Box here.
Seed Kit Gift Box
There is more than one way to express to your valentine that your affections are growing. For the avid gardener, or hopeful beginner, seed kits may say it best. These sweet gifts double as fun projects that the two of you can share for the months to come. I love this Wild Flower Seed Bomb gift set for its heart shapes and quaint wrapping. Or, check out these Grow Me, Grow Your Own Seed Kits. With themes like "Hot Stuff," "Chocolate Lover," and "Wine Enthusiast," they put the ol' flowers and chocolates combo to shame.
Purchase these and other plant gift boxes here.
Make Your Own (plant puns)
If you can't let go of the age old tradition of making your own valentine gift or card, don't let anyone rain on your creativity! Here are a few Valentine's Day plant puns that can be paired with a potted gift. Let the creative juices flow: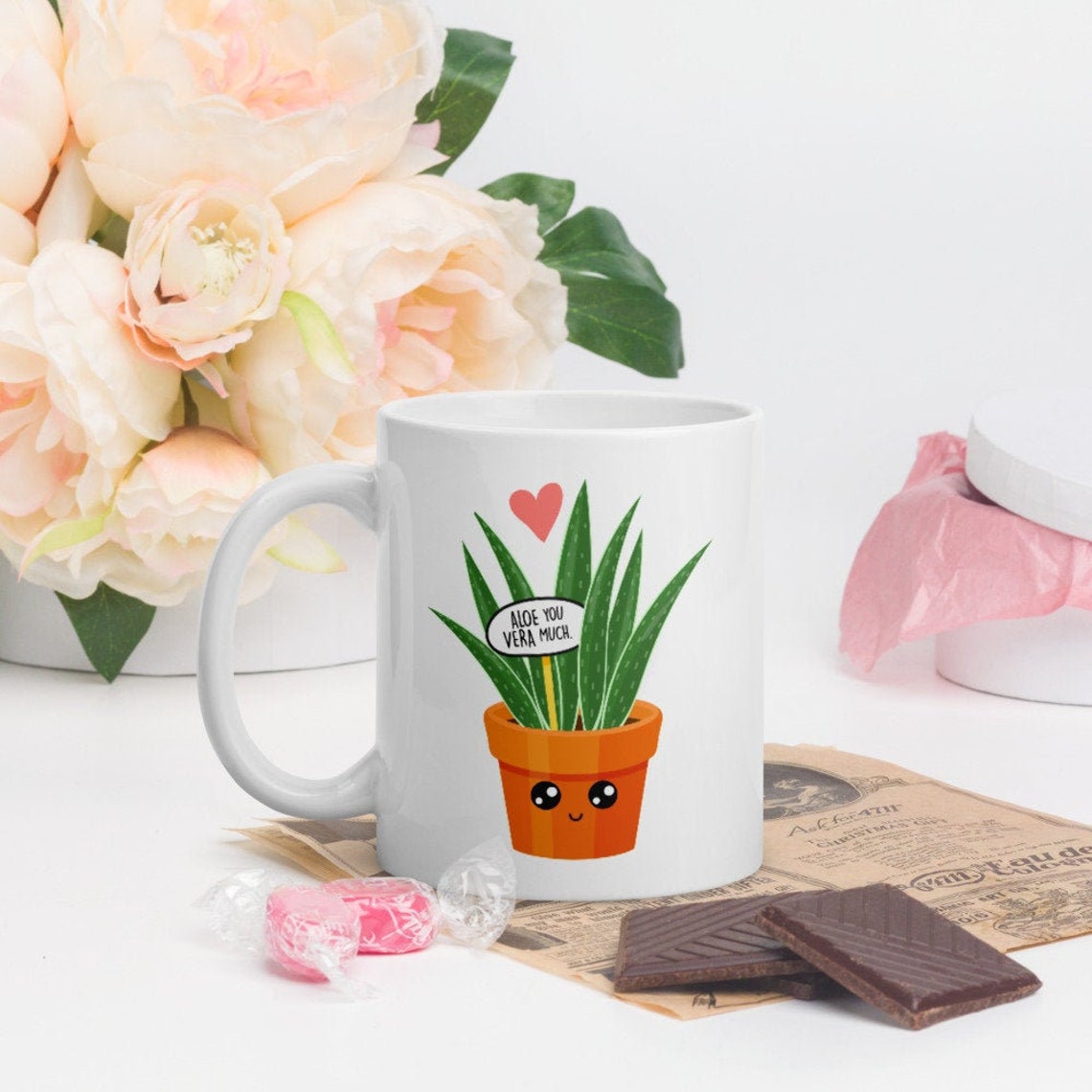 Photo from HappyLimeBySonja
Aloe Vera
"Aloe You Vera Much"
"Aloe Handsome"
Succulents
"Life Would Succ Without You"
Tulips
"These Tu-Lips Want to Kiss You"
"These Tu-Lips Wish You A Happy Valentine's Day"
Photo from missjohnnysquirrel
Chili Pepper Plant
"Hello Hot Stuff"
"Let's Get Hot"
There you have it. If your love has an affinity for living things, these gift ideas for plant lovers will help to keep the love alive this Valentine's Day.